110 N State Street
Geneseo, Illinois
(309) 944-1000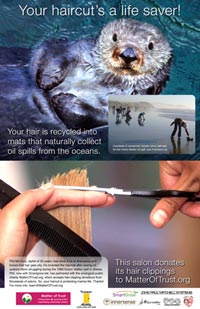 Studio G is sweeping up their hair clippings to save animals! Your hair is swept off the floor and put into the large boxes that we receive hair products in and then it gets sent to Matter of Trust. The hair is made into mats or booms that are extremely efficient in oil spills for saving animals and helping our environment.
The OttiMat™ is an innovative product that uses recycled human hair to repair and prevent the environmental damage caused by oil spills. Comprised of 99% recycled human hair and 1% Polypropylene Floatation Liner, OttiMat adsorbs (holds on to) oil. OttiMat™ patented technology is environmentally friendly, non-hazardous and all natural.
We require at least a 24 hours cancellation call.
We reserve time exclusively for YOU.
New clients, please expect a phone call confirmation and collection of your deposit of 50% for your services scheduled.
When you schedule an appointment at our salon, you are accepting our cancellation policy.
Failure to cancel your appointment 24 hours in advance results in a 50% cancellation fee.
In addition, no-show or late cancellations will result in a 50% deposit before your next appointment is accepted.
Payment Types
We accept Cash, Visa, MasterCard and Discover. Studio G gift cards are also accepted for both services and retail.
Refunds
We have a 30 day exchange policy. If you're not satisfied with your product you can exchange it, all we ask is that you bring your receipt. If you received a service that you are not happy with please let us know within 24 hours and we will strive to re-book your correction within the first week so we can make it right.
Cell phones
In order for us to maintain a calm and relaxing atmosphere, we respectfully request you turn off or set your cell phone on silent when entering the salon. Please understand that a ringing cell phone during a service is a distraction from our work, which is providing you a relaxing and wonderful service!