A spa day right here in historical Geneseo for those looking for a day of relaxation.
Indulge in a relaxing day at the spa for couples, friends, family or just yourself.  Packages are priced per person and include complimentary wine.
Groups are welcome and should be reserved well in advance in order to make that day special for you and your guest.
Package reservations must be held with a major credit card and require a 24 hour cancellation notice.  A 25% cancellation will be charged when not cancelled within 24 hours.  Gratuity is not included in spa packages.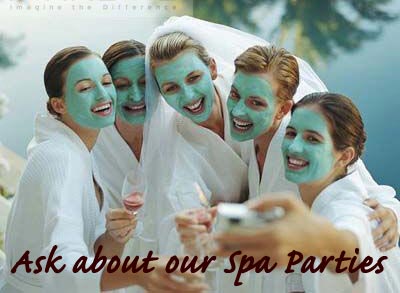 Spa Packages
Head to Toe  $190
Indulge yourself from head to toe.  You will feel revived and refreshed at the end of your stay with us.  Approximately 4 ½ hours.
60 Min Massage
Facial
Spa Pedicure
Classic Manicure
Hairstyle & Makeup
Spa Day $145 
Enjoy relaxing at the spa, approximately 3 hours.
1 hour Massage
Facial
Spa Pedicure
(This Package also available as a Pre-Natal Package)
Side by Side Retreat   $100 per person
You and someone special will enjoy both a one hour Massage and Facial while side by side in our sun bathed relaxation room.  Approximately 2 hours.
1 hour Massage
Facial
Teenage Dream  $99
Treat your teen to a revitalizing day at the spa, approximately 3 hours.
Facial
Express Pedicure
Gel Polish with dry manicure
Makeup Application and instruction
Back to Nature  $220
Get back to nature with organic services from our spa, approximately 3 ½ hours.
Hot Rocks Massage
Seaweed Facial
Hot Stone Pedicure
Date Night  $45
Get ready for a night out on the town approximately 1 ½ hours.
Blow dry, Iron curl
Brow maintenance
Extended Wear Manicure
The Buff  $99
Treat your man to a little pampering, approximately 1 ½ hours.
Gentleman's  Facial or Back Wax
1 hour Massage
*times are approximate, depending on person and services performed.